Bantam T3-C Data Plate History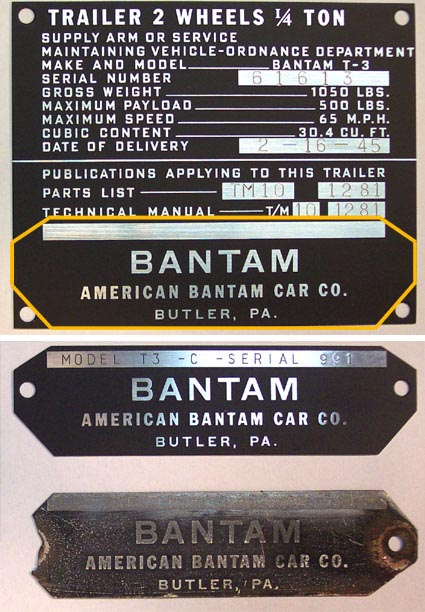 Recently discovered data plate change in the 30XXX serial number range.
Robert is also going to research reproduction of this late brass style tag.

For an accurate and superior quality replacement data plate or repair visit our generous sponsor and click the trailer link.
Data plate for T3-C trailer $24.50 (US dollars)
Stamping T3-C trailer plate $10.00
Attaching hardware, Rivets $2.25 (2 rivets & 1 extra for practicing)
Shipping $17.50 tracked and insured
Normally it will take a week to arrive in the US.
I learned something new today after contacting a vendor with an impeccable reputation for the very best in reproduction data plates for military vehicles and also our Bantam T3-C Civilian Trailers.
Robert de Ruyter of "Dataplates4u" in the Netherlands described to me how the original Bantam T3-C trailer data plates were derived from cut down "Bantam T-3 Military Trailers" produced in WWII.
My guess is the Military T-3 data plates were probably surplus after the war just like the parts used on the early T3-C trailers and used up until supplies were exhausted.
If your data plate is in need of replacement or repair please contact Robert and let him know you learned of his "Outstanding Workmanship" here on:

Click the dataplates image to the right and tell us what style your trailer has to narrow down when the changes occurred in production.
Have a look at the below images of Roberts discovery.