Help me with web costs

Bantam
T3-C
Ads and Memorabilia
Welcome to the Bantam T3-C Page
A special thank you to Gary Johnson for transferring this domain !
A compilation of facts, documents, and images of the Bantam all purpose utility trailer other wise known as the model T3-C (Civilian). If you own one of these trailers and would like to add images and serial number data it would be greatly appreciated by the others who wish to learn more about the history on this trailer. e-mail me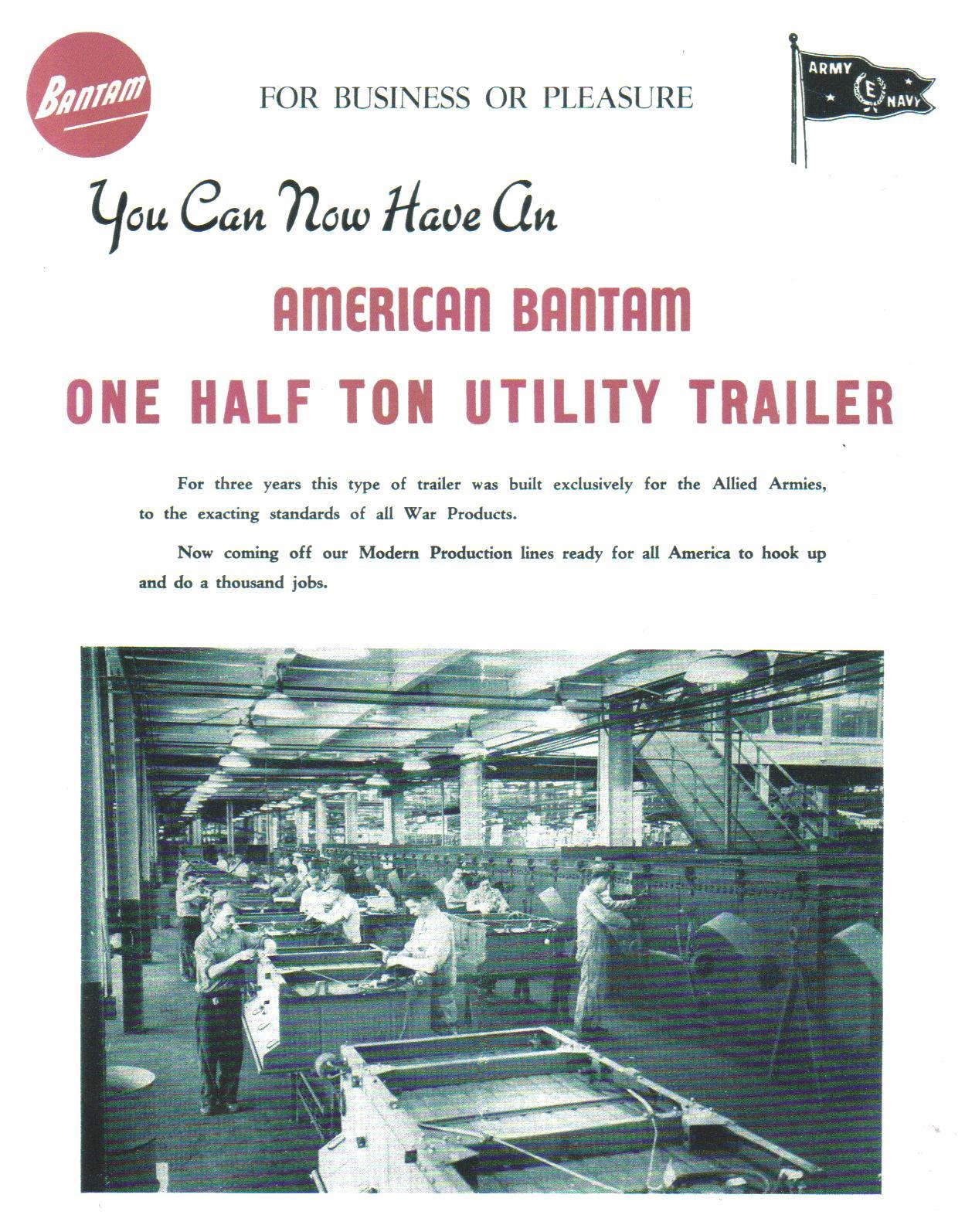 As seen in this early advertisement; the Civilian Bantam model T3-C was engineered and redesigned from his older brother the Military T3. You can learn more about the military model by visiting http://jeepdraw.com/Trailer.html

406

651

991

1291

1578

1686

1715

2152
2524

2764

3798
7989

9466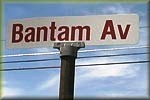 10270


12084

12131

12956

14295

14401

15135

16271

17017

19918

20006

22314

25038

26909

29577

unknown

30974

I'm proud to announce that
I will now be hosting:

Bantam T3-C Database
I'm resurrecting John Hubbard's database from the yahoo groups: Bantam Trailer http://autos.groups.yahoo.com/group/BantamTrailer/
Please confirm or add serial numbers, owner, location and contact info., I would also like unedited photos showing left, right, front and rear sides. Shackles, hitch, chains (gate and towing safety) tail lamps, reflectors, rear supports to determine when they switched to panel type rear supports. Lastly looking for the connector both trailer and vehicle and any unique features such as the bows and canvas.
e-mail me
serial numbers (sn) with an asterisk (*) have been added by me to the original database.
I'll change the sn to blue bold once I receive a confirmation.
serial number

ACM
year
spring hanger holes
side tie downs
3 or 4
supports
sheet metal or tube
wheels
combat or Jeep
owner
location
email
87
46?
Y
4 2 2
tube
combat
Louis Larson
Minnuapolis, MN
willysmb@comcast.net
278
45?
Y
4 2 ?
tube

Dave Burruss

* 436

45?
Y
4 2 2
tube

Randy Snyder

Terre Haute, IN

rlsnyder33@ma.rr.com
*651
45?
Y
4 2 1
tube
combat
eBay for auction
winning bidder pleas contact me!
http://cgi.ebay.com/ws/eBayISAPI.dll?ViewItem&ssPageName=STRK:MEWAX:IT&item=150319756979

694

45?

Unknown

New York Area

*725

45?

H8PAVMNT ECJ5

Charlotte, NC

*991

46?
Y
4 2 ?
tube
combat

Joe Anderer

Milwaukee, WI

joe_anderer2000@yahoo.com
151371
46?
Y
4 2 2
tube
*1291
154288
Y
4 2 1
tube

CJ2A 4.5x16 style

Brian Harris
Vacaville, CA
dayindy@sbcglobal.net
*missing plate
154291
45?
Y
4 2 1
tube
Chris Insull
Chesapeake, VA
lela4chris@cox.net

*1578

Y
4 2 ?
tube

jkillelea G503

jkillelea@optonline.net
*1686
Y
4 2 1
tube
combat

Dave Padgett

Pendleton, IN
*1715
45
Y
4 2 ?
?
combat
doctordirt
dirt@eclipse.net

1772

46?

Jason Dixon

Cambridge, Ontario Canada

1783

Y
4, 2, 1
tube
non original

Brian Gough

Oshawa, Ontario Canada

briangough@sympatico.ca

1827

N
4
sheet

Mike Burke

1846
Pontus Appelvang
2003
Y
3 1 1
sheet

2016

Scott McCasland

Prescott, AZ & Juneau, AK

mccaslas@jsd.k12.ak.us

2097
Dusty Bledsoe
2152
46
N
3 1 1
sheet

KH 4.5x16

dt 8-46

Steve Webb
Ft. Myers Florida
sdwebbelectric@embarqmail.com

2308?

?
?

2524

Y
3 1 1
sheet
combat

Dave Meyer

South Dakota

dmeyerrph@sio.midco.net

2764

Y
3
sheet
combat
Wally E.
Maine
theyankeedoodler@yahoo.com

3701

3
sheet

Tony Morgan

Ohio

3793

Tony Morgan

Ohio

*3798

N
3 1 1
sheet

Scott Lance

Johnsonburg, NJ

njranger@verizon.net
4205
N
3 1 1
sheet
solid 16"

Louis Larson

Minneapolis, MN

4901

Doug Page

5163
46?
N
3 1 1
sheet

John Klier

5289

N
3 1 1
sheet

Mike Bailey

Arizona

5371

N
3 1 1
sheet
solid 16"

Louis Larson

Minneapolis, MN

willysmb@comcast.net
*6800
N
3 1 1
sheet

Sharek Gadd

Indiana
G503 Feb28 04
*7005
Dave K

Milwaukee, WS

G503 Jan 4 09

7055

Kevin Kearney

Jamesburg NJ

7600
N
3 1 1
sheet

Jeff Kodysz

7611
N
3 1 1
sheet

Jim Johnson

7904
Jack Perry
7989
N
3 1 1
sheet
?
John Dwyer sold in 2007
8117
46?
N
3 1 1
sheet
Paul Yagid
amcjeep@gmail.com

9466

46
N
3 1 1
sheet

Robert (Bob) Bills

Aliso Viejo, CA

rdbillsjr@aol.com

10090

3 1 1
sheet bolted
solid 16"

James R. Milligan

10410
N
3 1 1
10589
Dan Girton

10720

3 1 1

Jim O'Kelley

10851
Andrew Ward

10950

48

3 1 1

CJ2A 4.5x16 style

Louis Larson

Minneapolis, MN

11260

Heather Goss

11325
Steve Ward

12131

N
3 1 1
sheet

Rus Curtis

Kansas

roc@idir.net

12334

Rich,VB

Stuarts Draft, VA

willys_jeep_guy@yahoo.com

12631

N
3 1 1
sheet

John Hubbard

12830

47
N
3 1 1
sheet

CJ2A 4.5x16 style

Louis Larson

Minneapolis, MN

willysmb@comcast.net

12956

David Moran

Alpharetta, GA

13419
N
3 1 1
sheet

Marc Langlois

13853

Mark Harpootlian

14059
N
3 1 1
sheet
Mike Pumphrey
*14069
MOP
Manhattan, KS
ecj5 site

14295

47
Museum

South East Michigan

14401

Steve Arrowood

Rome, GA

asavet6468@yahoo.com

14364

N
3 1 1
sheet

Bill Oaks

Kodiac@hotmail.com

*14512
ricksslatts
the2apage.com

14786

Ron Clark

14849
N
3 1 1
sheet

Ed Rogers

14922

N
3 1 1
sheet

Ken Brouillard

14947
Y
4
Rod Smith
suspect wrong sn
15135
N
3 1 1
sheet

CJ2A 4.5x16 style

Matt Reed
Ireland

*15420

Bryan Schneider

Vestal, NY

15572

Al Martin

Flint, Michigan

martin_agl@msn.com

*16271

47
N
3 1 1
sheet
Gale

Breitkreutz

Seattle, WA

gale@speakeasy.net

16410

N
3 1 1
sheet

Mike Boyink

Michigan

16462
N
3 1 1
sheet

CJ2A 4.5x16 style

Rob Jarrell

16495
Lyman Monty
lmontycj2a@comcast.net

16517

N
3 1 1
sheet

Richard Meagley Sr

Monclova, Ohio

cj2a@adelphia.net

17014

Anthony Anoia

17017
N
3 1 1
sheet
Wes Knettle
Wisconsin
tomatotruck993@yahoo.com

17099

N
3 1 1
sheet

CJ2A 4.5x16 style

Dan Schultz

17196

Dana Ridge

*17851

N
3 1 1
sheet

CJ2A 4.5x16 style

Bill Norris

Troy, Michigan
billnorris@wowway.com

18009

N
3 1 1
sheet

Mike Weiss

weiss@microworld.com
*18045
Barry Asbury
G503 Oct 26 03

18651

Ed Aldridge

18692

N
3 1 1
sheet

CJ2A 4.5x16 style

David Danmeier

California

19904
N
3 1 1
sheet

Tom Thompson

19918

Gary Johnson

W9849 Old 54 Rd.

New London, WI 54961-9122

*20006

47?

N
3 1 1
sheet

CJ2A 4.5x16 style

Roger Bensgard

Trosa, Sweden

roger.bensgard@privat.utfors.se

*20203

N
3 1 1
sheet

Rogan Murdock

Perrysburg, OH

rcm105@hotmail.com

20414

N
3 1 1
sheet

CJ2A 4.5x16 style

Jim Prangley

20686

N
3 1 1
sheet

CJ2A 4.5x16 style

John Maldino

21143
Andrew Ward

21569

N
3 1 1
sheet

Jeremy Burns

22650

Ethan Santos

23494

Jay Grubbs

Northern California (Purchased used in 1955)

grubbs@cncnet.com

24199
Kpjm Uomg;omg

25196

N
3 1 1
sheet

Zachary Kahn

*25038

48?
N
3 1 1
sheet

CJ2A 4.5x16 style

Art Contoni

Peoria, IL

28479

48
N
3 1 1
sheet

CJ2A 4.5x16 style

Doug Timme

St Louis, MO

Dougtimm@aol.com

*28874

sheet
Dave Naylor

York, PA

kaisercj71@verizon.net

*28879

last image old
dataplate

Dave

York, PA

kaisercj71@verizon.net
*29577
N
3 1 1
sheet

CJ2A 4.5x16 style

???
???
???

29863

N
3 1 1
sheet welded

James Milligan

*30101

data plate change
N
3 1 1
sheet

CJ2A 4.5x16 style

Jim Hybicki

Muskego WI

jameshybicki@aol.com
*30205
N
3 1 1
sheet

CJ2A 4.5x16 style

Scott Miller
Virginia
scotch740@gmail.com

30378

Andy?

Wes Knettles web site

30448

N
3 1 1
sheet

CJ2A 4.5x16 style

Finn Kjome

30606
Elaine Hartin

30756

Gene Schmidt

30853

Marc Meisner

?30873

Richard Tait

Fullerton, CA

30890
N
3 1 1
sheet

David Washkowiak

*30974
N
3 1 1
sheet

CJ2A 4.5x16 style

Robert Firth

Shawnee KS

31078

Michael Salone

31426

N
3 1 1
sheet

Ed Wilson

49070

Carl B. Jenssen

Are you sure this serial number is correct?

?
?

Dave Blevins

Maine

?
?

D.L. Griffith

Arizona

?
?

Peter Carter

?

pjc1013@yahoo.com

?
?
?
?

bgopbe+2a0h@eGroups.com

?
?

Steve Manchulenko

?
?
?

Wayne Rogers

?
?
?

Michael Salone

?
?
?

Kenneth Landry

?
?
?

Rich Tolson

?
?
?
Y
4
tube

Jim Maier

?
Jim Korczak
William Max
Nuttsville, VA
wmpmax@aol.com

Al Martin

Flint, Michigan

martin_agl@msn.com

Floyd Baxter
Earl D. Ralston
Gary Rosenquist
Neil Montlick
Randy Peterson
Robert Neal