Do you have a small utility trailer similar to the WWII Jeep trailer, that has a tailgate and a civilian ball hitch coupler?
American Central Manufacturing (ACM) supplied tubs and frames to the American Bantam Car Company for the Model T3 and also to Willys Overland Motors Inc for the Model MB-T who were both under contract during WWII to produce 1/4 ton amphibious trailers and kept parts interchangeable between the two models. Through military records we can determine how many amphibious trailers were built and when, but there currently is not any known "Official" civilian production records.
Iíve created a database where I'd like to be able to track exactly when Bantam modified existing Military Model T3 amphibious trailers which had stopped production around July 1945, and began selling a Civilian Model T3-C to the general public as a utility trailer that could be towed by the family automobile around September 1945. I do have newspaper article and ad documentation proving "Sep 1945" is accurate.
Once all the ACM parts on hand were used up, Bantam began using their own design and manufactured tubs and frames. I would also like to document when particular production changes took place in an attempt to help narrow serial number ranges which could help determine date of manufacture...the distinctive differences that are NOT just a bolt-on accessory would be the ones to identify and check on...
Look below at the various identified production changes so far and send me the data on your trailer to be added to the database.
Year if known:
Serial Number:

ACM Number: (If your trailer has four side tie downs it is most likely an ACM Trailer)

T3 Trailer Holes: (only applicable to ACM tubs)

T3 Floor Drain Hole Patch: (only applicable to ACM tubs)

Data Plate Style: Early, Mid, Late

Data Plate Location: High or Low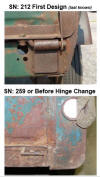 Tailgate Hinges Early: (only applicable to first few 300 ACM tubs)

Front Frame Corner Gussets: B/O Hole, Mid, Late

Shock Mount Holes: (If your trailer has four side tie downs it is most likely an ACM Trailer)

Rear Bed Supports: Tube or Sheet Metal
Drawbar Casting: Early, Mid, Late

Safety Chain Tow Hooks: Early or Late

Spring Shackles: Early, Late

Spring Mount Hanger Holes: Y or N

Drawbar Gussets: "V" Notch or Angle

Drawbar Mounting Hardware:

Tarpaulin Tie Downs: 4-2-1 or 3-1-1

Reflector Bezel MFG & Model or Missing (see both this image and the next one below)

Reflector Lens MFG & Model or Missing (see both this image and the the one above)

Tail Lamp MFG & Model or Missing (Arrow Model 41 or 7341) (see both this image and the next one below)

Tail Lamp MFG & Model or Missing (Arrow Model 41 or 7341) (see both this image and the next one above)

Wheels: Combat, Solid Disk, CJ2 Style

Paint Color: Red or Green

Axle: Smooth Solid Tube or Two Piece Center Welded Seam

Options: Bows, Racks, Tarpaulin or Cargo Cover, License Plate Bracket

Stencil: Early, Mid, Late
Location: Your City, State
Remarks: (purchase price, location, family history, anything to share
Please send me detailed information for the above and unedited full resolution pictures to: bantamt3c@gmail.com
Picture Request: Click for example of the pose I'm requesting
Draw Bar with Hitch and Safety Chain Hooks
Floor with drain patch on early tubs
Reflector (close up showing MFG and Model #
Axle and Springs (showing welded Seam or Solid Tube)