Post-WWII Military 1/4 Ton Trailers

Return to the Jeep Trailer Spotter's Guide by John Hubbard.



Bantam M100: photo by Buz Bowling
As the 1950's rolled around the Bantam BT3 and MBT military design was being upgraded. Changes are as follows for the new M100 designation:
The 6-volt electrical system was changed to the new 24-volt military system.
Newly designed "M" series military taillight housings replaced the WWII pattern light housings.
"M" series trailer plug replaced the WWII version. Some M100's had a removable trailer plug and wire to a receptacle on both ends.
"Man handles" were added to all 4 corners of the body.
The lunette was beefed up.
Push-button-release parking brake changes to squeeze-release.
Tire size increased to 7:00 x 16".
Small storage box added to front wall of cargo body for tarp storage, trailer plug, etc.
The M100 trailer was widely manufactured with Bratford, Dunbar Kapple, Jacques Power Saw and Motor Coach Ind. adding their names to the growing list of builders.
For information on the M100, obtain a copy of TM9-871A-M100 1/4 ton (1951) from Portrayal Press.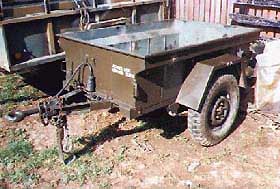 M416 -- Surplus, For Sale
The next generation 1/4 ton trailer was the M416. It was manufactured under the added names of Anthony, Fayette, Johnson, and Furnace and Stevens. The M416 differs from the previous M100 in the following ways:
Track widened to follow wider (M151) vehicles.
Traditional curved fenders were replaced by angular fenders.
The cargo body opening was enlarged.
Welded cargo body construction was replaced by a bolt-on design so that new bodies could be bolted to undercarriages as needed.
Cast yoke changed to design allowing 2 different heights for lunette insertion. The lower insertion was meant for smaller vehicles (1/4 ton) and the upper height meant for larger 3/4 ton towing vehicles. These insertion points were greasable and maintained using grease fittings--one on top, one below.
Safety chains were updated from the M100 design to a larger hook and larger chain.
For information on the M416, obtain a copy of TM9-2330-202-14P from Portrayal Press.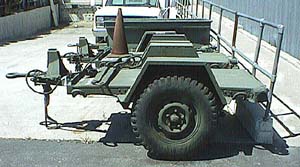 M716/M762 -- Surplus, For Sale
If you can't find an M100 or M416 to haul behind your jeep you could try an M716/M762 -- also designated as a "Small Generator Trailer." These have been available on the surplus market for years. They are based on the M416 chassis, and are rated at 3/4 ton gross. Steve at Owens Exports used to have a bunch of these. Note the M416 in the background of the above picture.
---

Return to the Jeep Trailer Spotter's Guide by John Hubbard.


---