Guide to Bantam Utility Trailers

by John Hubbard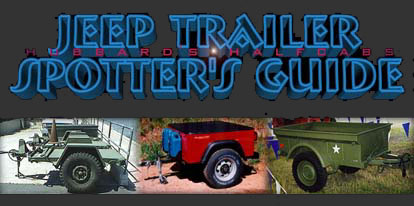 Table of Contents

This detailed collection of information about Bantam Utility Trailers was assembled by John Hubbard of Hubbard's Halfcabs and was previously hosted by Derek Redmond on The CJ3B Page. Material about the trailers is hard to find, so I'm pleased to be able to make it available here on The Bantam T3-C Page. -- Art Contoni

From 1946 Bantam Advertising to Dealers:

"For five years American Bantam was exclusively on War Work. The first Army Jeep was designed and built at American Bantam. This is considered one of the outstanding contributions to World War II.

"Our output of Jeeps, Axles, Ammunition Units, Airplane Parts, Trailers, etc., has run into a figure of over two million dollars a month. Over one hundred thousand Trailers were delivered to the Army during the last three years.

"The All-Purpose Utility (trailer) is the peace-time counterpart to our light Amphibious Trailer, which has been used in every part of the world where the Allied Armies have operated. It is of the same sturdy construction, revamped to meet peacetime needs."



Bantam Utility Trailer Links and Restoration Resources
Acknowledgements
Thanks to the American Austin/Bantam Club. The main article referenced in these pages was written by Dan and Barb Janquitto. Thanks to George Domer (AA/BC historian) for his great contribution to this project and to Joseph DeAngelo of Golden Miles Sales, Inc. (610-791-4497) for going the extra "mile." I would recommend that anyone interested in Bantam and its history join the American Austin/Bantam Club. Thanks also to Fred Coldwell of Denver, Colorado and Phil Nelson of Nelson's Surplus (330-482-5191) for information and literature. Thanks to Bill Spear for the Bantam logo. All not-previously copyrighted items copyright J.M. Hubbard.

Continue to Pre-WWII and WWII Jeep Trailers.
---