Pre-WWII and WWII Jeep Trailers

Return to the Jeep Trailer Spotter's Guide by John Hubbard.

Pre-WWII Light Civilian Trailers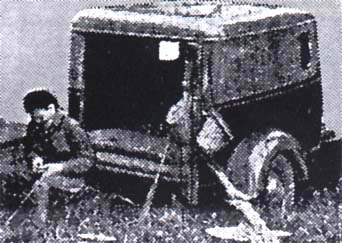 From AA/BC Newsletter
Bantam management always had economy on their minds, so it only seems natural that they would find a way to convert the Panel truck body into a utility trailer. Two versions were available: One had twin side windows which could be covered with folding awnings, and the other had flat side panels with small windows on the front quarter panels. Advertised for use as a camping trailer or as a utility trailer, it contained 95 cubic feet of usable space, had a 750 lb. capacity and measured six feet 10 inches long inside. The Bantam Trailer Sales Company was organized to handle sales for the $159.50 trailers, but those sales never materialized. No mention of the trailer was made after 1938.
WW II Light Amphibious Trailers (Willys MBT, Bantam BT3)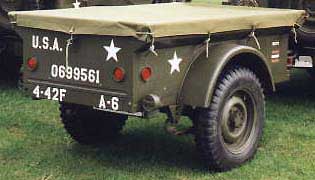 Willys MBT--Owner: Unknown
By late 1941 a need arose for a small cargo trailer as a companion for the jeep. During 1942 a quarter-ton trailer design was standardized and designated "TRAILER, CARGO, AMPHIBIAN 1/4 TON." It is known that by 1943 this trailer was being produced by both American Bantam and Willys Overland. It is not known for sure who did the initial design work on the trailer, but most people credit Willys Overland. The story is that Bantam was given the design and a contract to make the trailers, to make up for its loss of the 1/4-ton light reconnaissance vehicle contract.
Specification
Result
Body type
Cargo
Weight Net (lb.)
550
Weight Payload (lb.)
500 (Offroad spec.)
Weight Gross (lb.)
1050
Loading height (in.)
22
Ground clearance (in.)
12.5
Tread (in.)
49
Tires Ply
6
Tires Size
6.00 x 16
Brakes
Hand parking only
Towing tractor
Truck, 1/4-ton and 3/4-ton, 4 x 4
Shipping dimensions (cu. ft.), (sq. ft.)
141, 42
Trailer will float with 500 pound load,
with 6 inches freeboard
The Bantam model number was BT3 or Bantam Trailer - 3 (also called T3), while Willys used MBT or MB Trailer. The BT3 and MBT trailers consisted of a sheet metal construction cargo body welded to a separate frame. When the two floor drain plugs were sealed shut, the trailer became amphibious and could be either motored or man-handled across rivers or bodies of water. The trailer's single axle was supported by conventional leaf springs and direct acting shock absorbers. Towing was accomplished by means of a lunette receiver hitch used in conjunction with the military pintle hook that was mounted on the rear of most military vehicles of the time period. The trailer could be parked in a near level position by simply dropping its "landing leg" located just behind the lunette. A mechanical "pushbutton" release hand brake kept a BT3 or MBT from accidentally "rolling into combat."
Lighting was a standard period, six-volt military black out and service light, and was connected to the standardized jeep through a military trailer plug and corresponding receptacle on the jeep.
Loaded cargo was protected by a simple, reinforced, grommetted, rectangular tarp, roped with separate pieces of hemp to tiedown hooks strategically located around the trailer's cargo body. Standard 6.00x16" military mud and snow pattern tires were mounted on the standardized 1/4 ton jeep split rims (combat rims). Much of the running gear components were interchangeable with the standardized jeep's Spicer axles.
By the end of the decade Converto, Fruehauf, Gemco, Pacific Car, Springfield, A Black, Checker Cab, Strick, Transportation Equipment and Utility had added their names to the list of co-producers of the 1/4 ton military trailers.
For information on the BT3, obtain a copy of TM-10-1281/1230 (9-30-42), the Parts List and Maintenance Manual for 1/4 ton 2-wheel trailers, Model T3 by Bantam from Portrayal Press.
---

Continue to Post-WWII Light Duty Civilian Utility Trailers.
Return to the Jeep Trailer Spotter's Guide by John Hubbard.


---