Post-WWII Light Duty Civilian Utility Trailers

Return to the Jeep Trailer Spotter's Guide by John Hubbard.


Following the modifications listed below from the WWII trailer, the new civilian trailer was given the model designation BT3-C. Bantam went on to produce this basic trailer after the war for the civilian market from 1946 until 1953. It may have also had the model designation of BTC.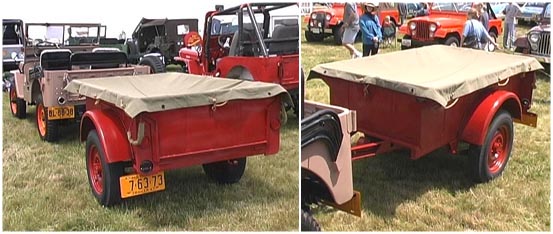 A 1947 BT3-C restored by Bill Norris in Michigan has serial #17851,
and has the original recessed taillights and ball hitch (60K JPEG's).
Major changes made to the BT3 for conversion to the BT3-C in the civilian market were:
Addition of a rear cargo body tailgate, sacrificing the trailer's amphibious characteristics for more practical uses.
Addition of cargo body side wall combination support gussets and taillight reflector mounts to compensate for the cargo body's loss of strength when the tailgate was introduced.
Military lunette swapped for a Fulton standard 1 7/8" ball receiver hitch.
Addition of cargo body top bow receptacles.
Military trailer plug changed to a civilian arrangement.
Cargo hold-downs were changed from 4 along each side to 3 on each side, one front, one on the rear tailgate.
No side reflectors.
No parking brake.
Data plate changes from 3"x3" to 1"x3". Early examples have the data plate right under the front top rail. Later models have the data plate mounted several inches lower.


Bantam T3-C showing early side supports (Serial #694)
Other features of early examples observed by Bill Norris include:
"It appears the first 200 or so, were painted olive drab and came with combat rims.
"I have also found two that have a seamed axle like the militaries. The serial numbers were pretty far apart, so I don't know if there are a series that used the axles, or if they were mixed in.
"At some point, the font of the Bantam logo changed from typical 'typewriter' all capital letters to the slanted version that is seen in all of their advertising. This changed around serial number 1900 or so. I have seen trailer 1824 with the old font.
"Somewhere around serial number 1,900, the safety chains changed as well. The early ones used the military hooks."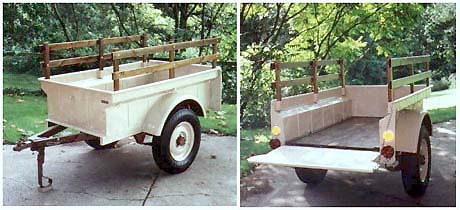 Restored BT3-C owned by Mark Harpootlian (Serial #13853)
The basic specs for the Bantam civilian trailers are as follows:
| Specification | Result |
| --- | --- |
| Body type | Cargo |
| Weight Net (lb.) | 485 |
| Weight Payload (lb.) | 1000 (onroad spec.) |
| Weight Gross (lb.) | 1485 |
| Overall Height (in.) | 42 |
| Overall Length (in.) | 109 |
| Overall Width (in.) | 56 |
| Floor Width (in.) | 38 |
| Body (ft.) | 6 x 4 |
| Tail Gate (in.) | 18 |
| Tires Size | 6.00 x 16 |
| Tread--Center to Center (in.) | 49 |
| Springs (in. x in.) | 36 x 1 3/4 |
---

Continue to Post-WWII Civilian Trailer Features and Variations.
Return to the Jeep Trailer Spotter's Guide by John Hubbard.


---