Post-WWII Civilian Trailer Features and Variations

Return to the Jeep Trailer Spotter's Guide by John Hubbard.


Return to Post-WWII Light Duty Civilian Utility Trailers for an introduction to the BT3-C and its differences from the WWII military trailer.
Advertising from the late 40's for the BT3-C ("America's Finest Trailer--The All Purpose Bantam Utility") lists:
High Tensile Steel Body (see below)
Timken Wheel Bearings
Tail and Stop Light
Safety Chains
Full Crown Fenders
Front Leg Support
Reflex Reflectors
Tail Gate Chains
Wired for Tail and Stop Light
3" Channel Steel Frame
Six Stake Pockets
Lacquer Finish
Ribbed Floors and Sides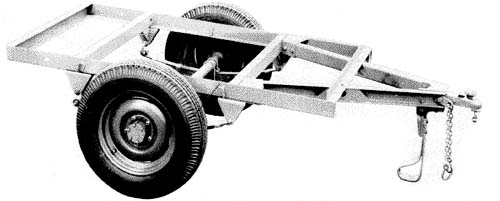 Other items mentioned on the flip-side of the ad mention that the Chassis was "available and ready for mounting special bodies of all kinds." It also mentions "The body is made of high tensile steel (see below), electrically welded and all materials used are of the finest quality." Relating to the bows (pictures below) -- "Side racks and bows are made of specially selected hardwood for this purpose and are fitted to the sides of the trailer in permanent pockets. Tarpaulins are form fitting and can be attached to the trailer by permanent hooks on front and sides. The tarpaulin material is of the finest quality and tailored for appearance and service."
A 1947 ad from The International Nickel Company, Inc. states: "This sturdy 1/2 ton (onroad spec.) trailer, a product of the American Bantam Car Company, is aptly called a 'Covered Wagon.' To assure extra stamina for withstanding rough treatment and exposure to the elements, American Bantam specifies bodies in Yoloy, a high tensile Nickel-copper steel produced by Youngstown Sheet and Tube Company." The add goes on to list "The 1-2-3 of Nickel Alloy Steel Bodies: 1) Deadweight Reduction--Thin, light sections of low alloy high tensile steels containing Nickel permit substantial weight reductions by providing the same strength and ruggedness as thicker, heavier sections of plain carbon steel. 2) Easy Fabrication--Compared to carbon steels of equal strength, these Nickel alloy steels show superior behavior in fabrication, including welding and cold forming, frequently effecting a decrease in working costs. 3) Corrosion Resistance--The ability to resist many types of corrosion is another valuable characteristic of low alloy high tensile steel sheets containing Nickel. This property helps to lengthen the service lift of vehicle bodies."
Some trailers have been seen equipped with spare tire mounts on the front of the cargo box, but whether this was a variation due to the year of manufacture or simply an option is unknown.


Bantam Literature showing "Covered Wagon" effect
The addition of the top bow receptacles made it possible to use canvas end curtains and a cargo tarp as an alternative to the flat military style tarp. This created a covered wagon or military cargo truck body fully canvassed effect. Much of the canvas used for these civilian tarps were either produced for or by Bantam using military specification olive drab canvas (probably surplus materials from the war). Beachwood Canvas still manufactures this covered wagon canvas for BT3-C trailers as well as other military tarps and canvas products.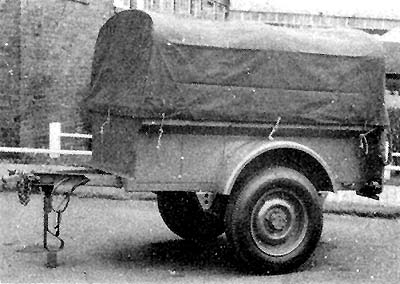 Reportedly, the civilian model BT3-C was offered for sale to the public in the late 1940's through such outlets as Sears and Roebuck (marketed as the "Hiawatha"). American Bantam was the only builder to convert the 1/4-ton military trailer design for use in a civilian market, probably done in an effort to maintain a large quantity production to keep the company going.
Bantam trailers in 1946 were available from the factory in Red and Green paint colors only and suggested retail price in November 1946 was $169.50 plus $8.12 tax for the basic trailer. The Utility Chassis (no cargo body, wiring or fenders) was $126 plus $6.62 tax. Side Racks, Bows and Tarpaulin Set was $35 plus $1 tax. A flat tarpaulin was $12 plus $.38 tax. All prices were F.O.B. Butler, PA.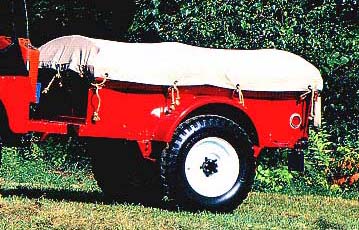 Identified as a restored 1945 Bantam civilian trailer. Owner: David Voll.
The above photo was published in David Fetherston's book Jeep: Warhorse, Workhorse & Boulevard Cruiser with a caption listing it as a 1945 civilian trailer, and this fact illustrates several points regarding military/civilian trailer conversions as pointed out by Dan and Barb Janquitto:
"Since Bantam's solution to the need for a tailgate on the BT3-C was merely to cut out the rear of the cargo body panel, reinforce this sheet metal and side walls with angle iron and fasten it back on with tailgate hinges, it is very easy for a fellow to convert a surplus military trailer to the civilian configuration by doing the same alterations the boys at the Butler factory did. Considering the availability of surplus trailers to the public sector after WWII and the savings gained by buying such a used unit and converting it yourself, it would be likely to assume that BT3-C sales may have been substantially hampered. This also makes it easy to confuse the home-converted BT3 with the factory-converted BT3-C civilian trailers. However, if the data plates are still intact at the upper right-hand corner of the front outer wall of the cargo body, they will tell the story."
Looking at the picture above, which is it -- Civilian or Military? There are several things that could indicate this trailer's military heritage, but without seeing factory side rack/bow receptacles and/or the data plate, identification is difficult. A good question to ask would be whether this trailer has a lunette or ball socket. In addition:
Four side rope ties instead of 3 indicates a military trailer.
Lack of rear side support/light-reflector mounting area -- military looking taillights and attachment.
Rear side reflector in traditional military location.
A full page (100K GIF) from a late-50's-era catalogue of Jeep Specialized Vehicles and Equipment shows a trailer made by Spen, described as the Model "S" 3/4-ton utility trailer (above).
Listed specs for the Model "S" are similar although not identical to the Bantam trailer, and a Model "V" trailer with a fully enclosed van body is also illustrated.
---

Continue to Post-WWII Military 1/4 Ton Trailers.
Return to the Jeep Trailer Spotter's Guide by John Hubbard.


---